I spent a little (ok, a lot of) time checking out my favorite blogs and seeing what they'd been up to today. I spent a lot of (ok, a little) time doing RL stuff, like fixing supper, doing laundry, etc. I finally started working on a new post for my own blog. (I have idea starters on file and two that are almost done if I can just figure out a few more techie things that I want/need to do to them.) I was also in the mood to watch Twilight again and thought I'd just do a tiny post tonight.
Like always, I get distracted while I'm working on a post. I'm constantly checking my blog roll and my email inbox to see if any of my bloggy friends are posting/commenting on something new. That's how I found my super bloggy BFF
Mrs. P's new post
. It's also when I decided to wave the white flag.
I told her I was just going to put my blog up for sale and move in with her. I try to keep up with her. I thought I was going to at least be in the race. I mean, after all, she promised she was only going to do one post each day. Pretty sure I counted three. Just sayin'.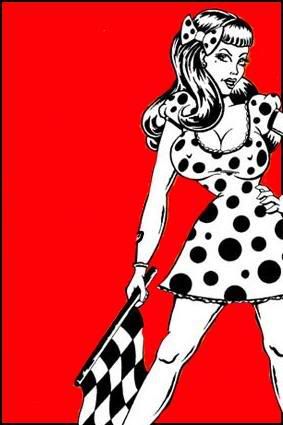 Yes, Mrs. P., I see you flashing your boobs

waving your checkered flag.

So here is the video I was going to work my post around. It combines two of my current loves: Twilight and the Kings of Leon.
But Mrs. P trumped my king with her ace. So what's a super bloggy BFF to do? Steal the video and post it here. That's what.

Those of you who know me in RL know that I absolutely love Aerosmith, and the first kiss is my favorite scene from Twilight. I've seen Aerosmith in concert three times, and I've seen Robsten in bed about three thousand times.

So, Mrs. P, you win video of the day, hell maybe even of the year. Now, can you please tell me which room is mine? I'm packed and ready to go ;)